LED Blue Light Therapy – Acne Treatment
Acne Treatment : LED Blue Light Therapy
Experience the power of LED blue light therapy in eradicating acne-causing bacteria – with no down time!
This non-invasive treatment works by oxygenating the skin to destroy p.acnes bacteria, which reduces the inflammation associated with mild-to-moderate acne. As a result, the number and severity of active acne lesions and the chance of further breakouts and scarring is reduced. A course of 8 treatments is recommended – 2 per week for 4 weeks.
Suitable for face and body.
Each session lasts for 20 minutes, of which you lie comfortably underneath the light.
Walk-in, walk-out procedure with no pain, medications, or any invasive procedures.
Studies show 80 per cent of those tested after treatment under Acnelight showed significant improvement and more than 60 per cent were clear after four weeks.
The Acnelight has been both TGA approved in Australia and by the US FDA.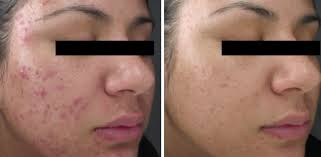 Price: $79
Pre-pay 8: $550
For more information, please call us on 98241166 or Book Here